To sum up the next two days, our mornings and afternoons were spent lounging in the shade by the Colorado River, occasionally going in for a dip, marveling at the thunderous watercraft cutting ribbons into the river. We were accompanied by Grivy's gregarious Steady-Betty, Kim. A Southern charmer with a hearty laugh, Kim was quick with a blue joke and generous with her time and her "hard" lemonade. We spent our time laughing and chasing the shade, a wonderfully gray place once taken for granted in our forested Rocky Mountain homeland. Late afternoons were spent reading in the cool trailer, evenings spent eating out at Stokes or the Roadrunner. This felt like paradise.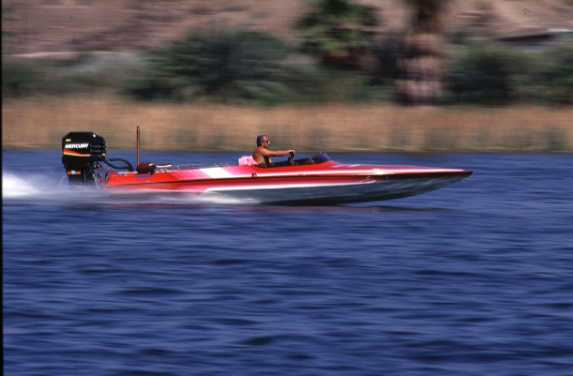 Day 8-11

These days were more of the same, except in the late afternoons, Grivy would drop by our swinging bachelor pad to whisk us off for some prospecting. We headed into the hills just East of Highway 95. We spent one evening drywashing in a narrow canyon strewn with enormous blocks of basalt. What a tremendous, boiling river must have existed through the eons to round off these once-jagged, volcanic remnants. Leonard pined aloud for his dredge and even one measly pool of water. We worked behind a gigantic boulder which appeared to be soldered to the bedrock by nature herself.

The Keene 140 hummed along into dusk, but our cleanup was disappointing – to Grivy, that is. Leonard and I were just happy to have seen this spectacular dry riverbed and to have toiled in the glorious shade.

On another evening, we visited an abandoned mine. Obvious in its surroundings, but hidden from the main road. We tackled the floor of the mine with a shopvac. While Grivy vacuumed, I held the light and struggled to see through the brown veil of dust engulfing the tunnel. Grivy and I shared frustrated laughter every time the vacuum hose clogged. About every five seconds. Leonard took his usual route – straight back and as far as he could go into the heart of the mine. He brought out samples of bright blue- and green-encrusted ore.

Interesting…

As dusk fell, we returned to Grivy's place and ran the buckets of gravel through his homemade sluice. How these desert boys dream of cool, green streams. Grivy's sluice is remarkably well-designed. Let a guy loose with carpet scraps, a nail gun, and a dream…

Day 12

Changed into our Sunday-best for a trip to the Lake Havasu Wal-Mart. Oh, the things we saw! The times we had! Seriously, we were after a black light for our planned night of scorpion hunting. I had suggested that we try to find another one, just for kicks. This obviously appealed to Grivy's "anything for a thrill" credo, and Leonard thought that it would make a good story. So, Indiana Jones, Ernest Hemingway, and the Instigator trudged off into the darkness.

Holy futility, Batman ! We parked on the east side of Highway 95, just north of the Roadrunner. Grivy sparked up the generator, connected about two hundred feet of extension cord, and switched on the black light. As I stumbled through the darkness with the eerie, dim light, Grivy divvied out the cord like an ESPN lackey on the sidelines of a football game.

Under logs, around debris, into the woodpile we stumbled. We hit all the hotspots. Nothing. We were outwitted by the speck-brained spiders. Coiled cords aboard, we headed over to the State Park. Nothing. Grivy suggested that we roam the neighborhoods, which was most likely an excellent idea. However, I couldn't stomach the thought of explaining our midnight hunt to an arriving sheriff's deputy called to check out three guys with a generator, flashlights, and a couple of shovels. Especially not in a "right to carry" state.

So, we resigned to relaxing riverside. Looking at the stars, wondering aloud about meteorites, and tipping back a few cold ones.