Dredging Workshop Gold Prospectors of the Rockies June 22, 1997
---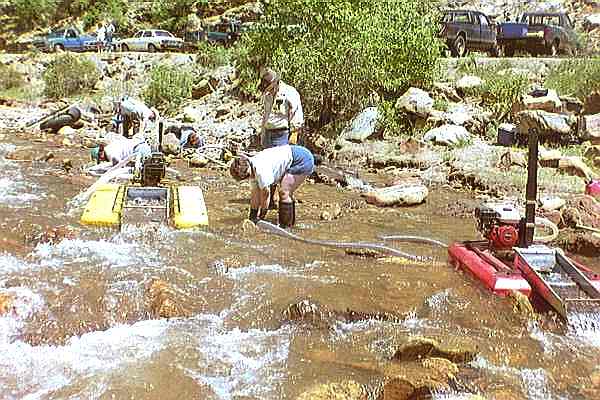 June 22, 1997 the Gold Prospectors of the Rockies held their beginning dredging workshop. We had to fight one of the springtime problems in Colorado of high water. In June, the spring runoff is in full swing and really limits the places that can be dredged. These club workshops are held to introduce members to areas of prospecting and equipment that they may not of had exposure to as well as to give a good excuse for all of the rest of the members to get together and party and show off their equipment. Nine dredges were present ranging from a 1 1/2" portable backpack dredge to a Keene 4" over-under sluice and a 4" Bazooka. The dredges were set up and some dredging basics were given to the group of about 30 members and then the members were free to spend some time on the dredge nozzle of their choice. After a period of time, (actually, as long as they wanted to try the dredge out), the dredge was then shut off, torn down, and cleaned out and the contentrates were given to the beginning operator. New dredge operators were quick to learn that dredging means getting wet. The bigger the dredge, the wetter you get. Here a red 2 1/2" ProLine equipped with air is on the right and a yellow Keene 4" with air is shown on the left.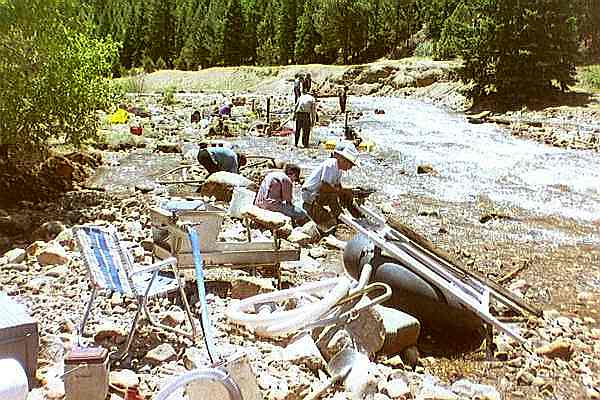 As this was a beginning dredging workshop, the air setup and "hookah" were not used. This is still way to early in the year for non wet suit dredging in Colorado. The advanced dredging workshop is planned for October. This "may" allow non-wet suiters to briefly go underwater to try out the air depending on their tolerance of the cold water. All types of dredges were present from inner-tube floaters to no-floaters such as a bazooka. The workshop was located near a major roadway and many spectators as well as prospective gold prospectors stopped by. Several new members were signed up as a result of the high visibility of the site from the road. As can be seen from the picture above, no one had to work very hard to place the equipment in the stream. I could almost throw my floats into the water from where I was parked. Our club "portable store" was unloaded and new gold pans and assorted necessary equipment were available for sale to anyone requiring additional equipment. Refreshments were furnished and all both young and old had a great time playing in the water. These outings serve as a good excuse to get out and enjoy the summer weather.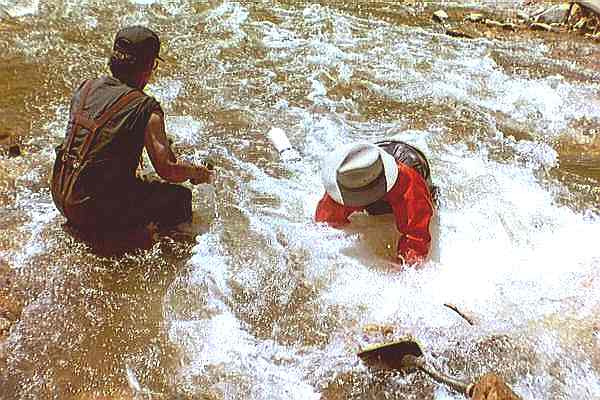 Here a bazooka is shown at work. Between the two prospectors is the dredge's outlet pipe. A bazooka is completely different from a conventional dredge as there is no standard sluice box. This is a 4" and you can tell from the picture the size is completely different from a conventional dredge. Not shown is a 5 hp motor and pump assembly. This is a 2 trip carry for most people as compared to a 4-6 trip carry for an old, out of shape wimp like me with my 4" Keene.
---
Return to Menu
---