THE TRIP TO THE MOTHER LODE
---
As I left Colorado and the miles clicked off on the odometer, my anticipation began to build. I was going to gold country. Not Clear Creek or Central City in Colorado where I usually go, but real gold country.
The high Sierra's!
The mother lode!
California!
Leaving Reno on I-80 I pushed my right foot closer to the floor trying to squeeze out a few more miles-per-hour over the speed limit without attracting the notice of the state police. I was a nervous wreck. I was almost there. Crossing the California state line I had 21 more miles of I-80 before my turn onto hi way 89. From there on it would be 2 lane road the rest of the way.
As I turned off onto hi way 89 I noticed a Forest Service office. Now would be a good time to find out where all of the good gold panning spots are. Who should know better than the Forest service. They were in charge of the land weren't they?. Asking about gold panning brought the answer:
"Thats done down the road about 50 miles. We don't know anything about it".
That wasn't exactly the answer I had hoped to hear. I had just traveled 1,000 miles and couldn't get any information about 50 miles down the road. It was even in the same National Forest.
Trying not to make the stop a complete waste, I purchased a national forest map that covered the area I was interested in. They asked me if I was going to camp and when I said yes they told me I would need a campfire permit.
"I'm not going to use a fire. I have a cook stove"
"You'll need one for that also" they said.
The good thing about it though was it was free.
Back on the road again. Now the road had narrowed to a small two lane and was curling around in the mountains. After driving another 19 miles I came to a small town. Sierraville. Slowing down for a stop sign I saw the magic numbers. Hi way 49. The famous magic road I had read so much about which traversed through the heart of gold country and the mother lode. I turned onto it and headed west expecting to see gold mines and placer works everywhere. Boy was I disappointed. For the next 25 miles I couldn't even see any water, much less any sign of gold.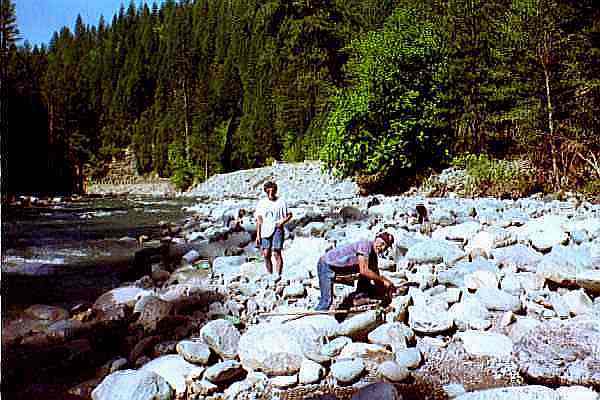 Friends from Montana hard at work
Arriving in Sierra City, I began to see signs of a stream "waaaaaay" down in the bottom of a canyon. Could this be what I was looking for? After traveling a few more miles I saw three people loading gold panning equipment into the back of a truck. This had to be a good spot. They had been panning and they were parked at the entrance to a closed campground. It was probably closed to allow the gold prospectors better access to all of the gold. These were probably locals. Who could be better to ask about where to go. Stopping and backing my truck up I introduced myself. About that time I noticed the license plate. Montana. Not very local but at least they had been panning in the area. Maybe they could give me some advice about where to go. (at work I usually get a lot of this kind of unasked for advice but these people wouldn't know me so their advice might be useful) It seems that the spring floods had been even larger than the 1996 record floods and had washed through the campground making it unusable. After a short visit, I decided to stay in the campground where they were staying and then return with them the next day to this spot. That turned out to be a very good decision.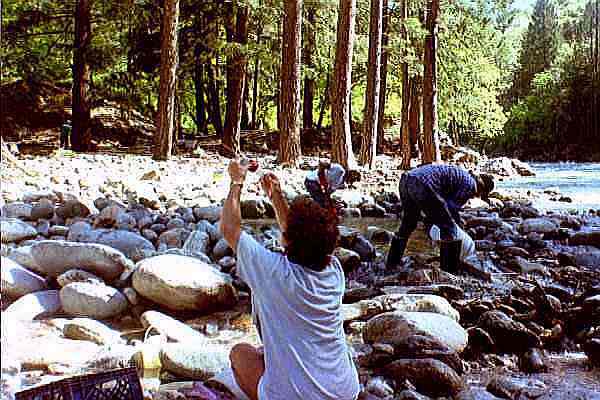 Lady Prospector checking out the gold in her snuffer bottle
After setting up camp, I decided to look around. There was only one other camper and he was from Colorado also. Small world. After a discussion about where to camp the next day, we decided to move to the other campground as it had just been opened. The next morning after a hurried breakfast, I packed up my camp gear and headed down the road.
Arriving at the campground I noticed other prospectors busily at work. In a new place sometimes it is a good idea to see how and what other people are doing. This wasn't dredging season yet so everyone was screening and classifying the gravel then carrying it to their sluice boxes in buckets. Always the inquisitive one, some might call it nosey or snoopy, I watched as gravel was dumped into the sluice. Gold! Gold flakes were magically appearing on the front mat and riffle of the boxes. In Colorado I had never seen that much appear that easily. Checking with other people I found out they were all having the same results. Everyone was finding flakes of gold. Anxious to try out my luck, I returned to my truck to unload my equipment.
As I carried my buckets, shovel, sluice box, pans and all of the other required gear over the rocky gravel bar, I wondered "Would this be the place I would find my first big nugget"?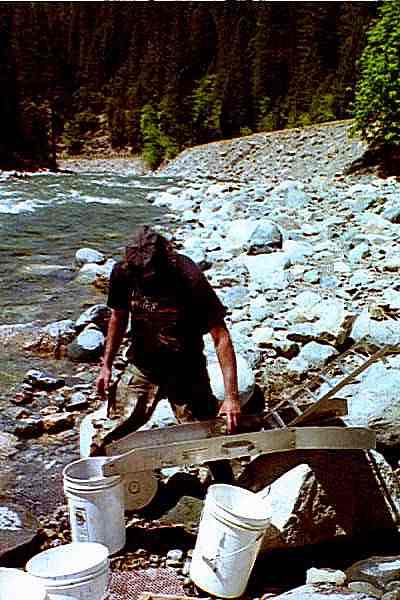 The exciting part. Cleanup!
Looking around the gravel bar I tried to find a place to dig that was close to where the water had a nice drop where the sluice box would have the proper slope and had a big rock to dig behind. No such luck. All of the good places had a prospector busily digging away or was about 75 yards from the good sluice box spots or had already been dug up. Oh well, that just meant I would have to carry my buckets a little further. Eagerly I began to dig and classify out two buckets of gravel. After filling the two buckets to the top, I grabbed one in each hand and carried them to the sluice box. (little did I know then that after 3 days of this, I would be carrying one bucket at a time and it only half full)
As I began to dip gravel out of the bucket one can at a time and slowly running it through the sluice box the magic began to happen. Gold appeared on the front of the box. Not just one flake but several. This was a new experience to me. Never before had I seen more than a flake or two at once. Excitement mounted as the more cans I processed, the more gold appeared. It took a lot of restraint to actually run 4 buckets of material through the box before I took it out of the water to do a cleanup.
Cleaning out the last of the concentrates.
Checking out the box after I removed it from the water my hopes were confirmed. Gold! About 10 flakes showing. Nothing huge but quite a few 1/16" or slightly larger. Definitely not the dust that I was used to finding. On a good day in Colorado dredging I might not find any more than I had here in four buckets of material. Hopes were high. If I could find this much this easy, how much could I find in a full days work? As the day passed on I continued to get gold with every bucket. The thrill was still there but I thought nothing could match the thrill of the first two buckets of gravel. I had never before seen as much gold captured as easily as those. That feeling, however, was to be replaced at a later date.
I was only able to spend one day on the mother lode hard at work sluicing. Early the next morning, with many misgivings, I packed up my camp. After saying goodby to my new found friends with promises to return in two weeks, I headed north to Oregon. Leaving after only one day of finding the best gold that I had seen in my two years of prospecting was one of the hardest things that I have done. Did I make a fortune? Did I get an ounce of gold? Yes and no. Yes, I feel that the friendships I formed were indeed worth a fortune. No, I did not get an ounce or even close to it. I did find more than I had ever found before and it was nice size small flakes. It was worth every bit of the 2200 mile round trip even if that was all that I found on the trip. Which is just another way to say; "It's not over yet".
---
---