Dredging with Dave #1
---
Day #2 at Union Flats arrived full of blue skies and sunshine. I was to meet Dave Nickerson for the first time face-to-face. Dave had sent me an email after seeing my web page about my last years trip to the Mother Lode. He had prospected in the area and after several exchanges of emails we agreed to meet. He was to bring his wetsuit and small prospecting supplies and we would work together using my dredge for 2 days. We knew what each other looked like from pictures on our web pages. Also he had been a movie star appearing on one of the GPAA's Gold Fever shows when he had gone on their Mother Lode Expedition. I cooked a large breakfast and cleaned up my kitchen as I awaited the 9:00 starting hour. My last step in camp was to place a sign in my truck's window to let Dave know he was in the right spot.
As I pulled on my damp wetsuit, I was wondering how the days gold production would turn out. Would I be able to get a pennyweight like I did the previous day? I could still remember the joy of finding the most gold I had ever found in one day. I walked over the gravel bar and started the dredge's motor. Slipping down into the water I began feeding the material into the nozzle and moving rocks out of the hole thinking, what a great hobby.
After about 5 hours of work, I noticed a man walking toward me over the gravel bar. It was Dave #1. He had found my campsite and had been asking the other prospectors where I was. After a friendly introduction we sat down and got to know each other better. After about 15 minutes of discussion, I told him that I wanted to cleanup the dredge and get out of the wetsuit. Sitting on the bank in the black wetsuit and the 80 degree temperature in the sun was getting uncomfortably hot. We carefully flushed the concentrates out of the sluice into the cleanup tub, washed out the mats, replaced them, and then sat down and he helped me pan out the concentrates. After the cleanup, about 2 pennyweight of shiny gold sat in the bottom of the snuffer bottle. There was enough there that you could see it gleaming in the sun through the sides of the snuffer bottle. What a great second day.
That evening after a big supper we sat around the campfire with a cool one in hand and discussed strategy. The big question was how would we split the gold we were going to find? I suggested that we split 50-50. We both were going to work hard so an even split sounded fair. We could flip a coin to determine who got the first pick. With that settled we sat back and enjoyed the beautiful summer evening. All to soon it was dark and time to go to bed.
The next morning we both arose full of great expectations. After a quick breakfast we hit the river. The plan was to move huge amounts of material. We would switch off on the nozzle every couple of hours when we refueled the dredge. We would stop at lunch time for a quick lunch and then back to the water we would go.
It was late morning and it was my turn for the nozzle and I was ready. I had been moving the large rocks out of the hole as Dave dredged around them. He would move them over out of his way in the water and it was the top man's job to get them out of the hole. This meant about a 20 foot carry, roll, drag, whatever it took to get them out of the way. Sometimes this was hard as once they got up out of the water they were too heavy to move easily.
I slipped down into the water, grabbed the swivel nozzle and lay out prone, floating on the top of the water. We were working flood gold from the big flood 2 years ago so our hole was only about 2-3 feet deep and we didn't have to use weights. This made it a lot easier when we had to get up and down. When you are in the water with 50 pounds of weight it's not a big deal, but when you stand up, you carry the whole load. The water was crystal clear and I could see perfectly, at least as perfectly as I can without my glasses, (which isn't too bad as long as what I'm looking at is close).
All of a sudden I saw it! A golden gleam sitting on the bottom! The gravel around it was moving up toward the nozzle but it was staying plastered to the bottom. There was no doubt in my mind even though I had never seen anything like it before! It was a small gold nugget! My very first seen underwater. I set the dredge nozzle to the side and quickly stood up and yelled over to Dave. Then I realized that I still had my hooka in my mouth and Dave couldn't understand a word I said. After I removed it, I told Dave to get his mask. He then came over and took a look. I grabbed my underwater camera and took a picture to document it for everyone in Colorado to see. Then I carefully picked it up with my gloved hand, holding it over my other hand so I wouldn't lose it if I dropped it, and handed it to Dave for the snuffer bottle. What a great sight! What a great feeling. It was a little less than a pennyweight but to me it seemed like several ounces. It was the biggest I had found in all my several years of prospecting.
The rest of the day I carefully watched the area around the nozzle. I didn't find any more but the euphoria of the first lasted through the afternoon. After cleanup there was a little over 3 pennyweight of gold in the bottle. My best day ever. The conversation that night around the fire was great, living over the days activities and planning for tomorrow.
The next days dredging went very much the same as the first. We moved rocks, sucked up a lot of material, and got to see gold in the front of the box every time we stopped to refuel. It was great. None too soon though, it was time to cleanup. After 6 hours of steady dredging, we both had about had enough. We already had some nice gold in the sucker bottle from the pickers at the front of the mat whenever we stopped. I don't know about Dave but this had the best day dredging that I had ever had. We had seen other gold on the bottom. It hadn't quite had the same thrill as my first but it was great also.
We pulled out the dredge's mats and watched as pieces of gold washed down the shiny bottom of the sluice with the black sands into the cleanup tub. What a great sight. As we panned out the concentrates one pan at a time, we found more and more gold in each pan. When we were done, almost 1/4 ounce of gold sat in the bottom of the snuffer bottle.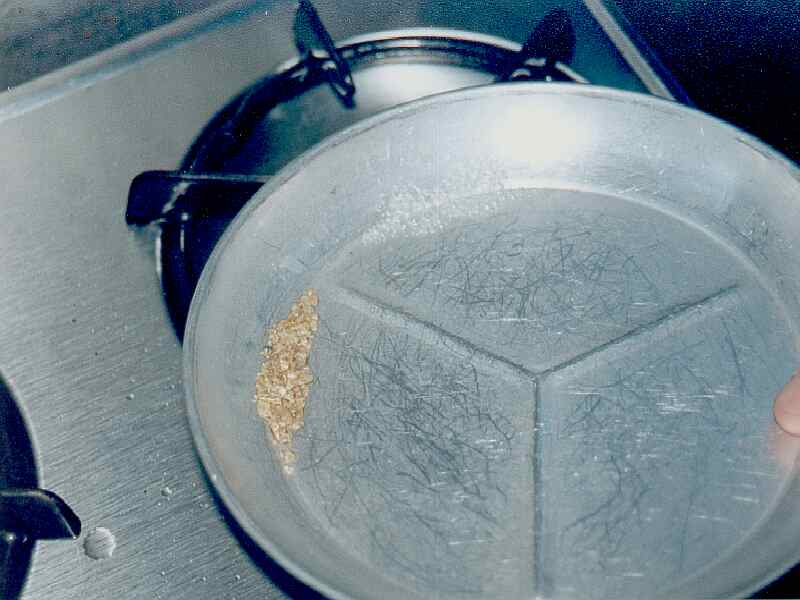 Drying the gold prior to weigh in. It's not a good idea to do this with eating utensils as there might be some mercury remaining on the gold.
Dave had to return home the next day so we needed to do the gold split. There was mercury on some of the gold so we placed it into a small metal gold pan and Herbie, the Valley Prospector's camp host, brought his propane torch over and after sampling the wind direction, heated the pan up and vaporized the mercury off. This was the first time I had seen this done. Don't try this yourself without the guidance of someone that knows what they are doing as mercury vapors can be fatal. When we were done, our gold was sitting in the bottom of the pan clean of all mercury. It was kind of dull from being heated so we put it in a plastic container, added a little ammonia, and shook it for 5 minutes. This made it shiny again. The next step was to dry the gold so it could be weighed. This was done in a plate over the cook stove. When heating gold always be aware that there might be mercury on it and stay upwind from the stove.
Weighing the gold, we ended up with 1/3 ounce. 8 pennyweight total. Not bad for 2 days work. Dave and I both were elated. The final remaining step was to split the gold. There was one really nugget that was thick and had a lot of character. We both wanted it. Taking out a coin I tossed it in the air and said "Heads". It came up tails. Dave cheerfully selected the nugget and then we alternated selections until we were down to the fines. Those we weighed and then split by weight. After the split, we both loaded up into Dave's car and drove to Downieville for a supper of pizza and beer. Make mine any kind only put lots of jalapeno's on it. What a great way to end a terrific 2 days.
Plans are already in the works for next year. Only next year, Dave plans to have a large dredge of his own.
We'll get together, help one another get setup, move big rocks, but run our own dredges. No flipping for first pick next year.
Check out Dave's version of this story and his pictures. He also has stories of his other prospecting adventures.
---
---